Review: The Queen of bright and shiny Things by Ann Aguirre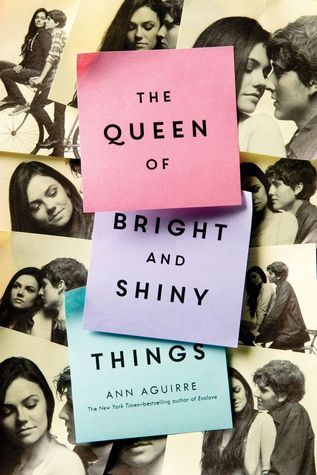 Summary:
Sage Czinski is trying really hard to be perfect. If she manages it, people won't peer beyond the surface, or ask hard questions about her past. She's learned to substitute causes for relationships, and it's working just fine… until Shane Cavendish strolls into her math class. He's a little antisocial, a lot beautiful, and everything she never knew she always wanted.
Shane Cavendish just wants to be left alone to play guitar and work on his music. He's got heartbreak and loneliness in his rearview mirror, and this new school represents his last chance. He doesn't expect to be happy; he only wants to graduate and move on. He never counted on a girl like Sage.
But love doesn't mend all broken things, and sometimes life has to fall apart before it can be put back together again…
"I've had so many people leave, but this is the first time anyone's come back."
Ann Aguirre strikes again...directly into my heart.
The story of Sage, her life and her past, and her love story with Shane had me so emotionally invested, I was a big mess after reading.
As usual, Aguirre wrote a beautifully honest and riveting novel with many memorable moments, characters that just make you fall in love with them and a story that flowed from the very first page.
What will definitely stay with me are the post-its. The idea that a single person pays enough attention and with a simple compliment could brighten someone s day or even change their life, that is very special and if only it happened more in real life.
Also, what is special and different about this book is that the author wrote it for her daughter, the story she wanted to read and that is so lovely.
The Queen of bright and shiny Things is a YA novel that surpasses age and is truly inspirational.
A definite success for Ann Aguirre.