eARC Review: Spider's Trap (Elemental Assassin #13) by Jennifer Estep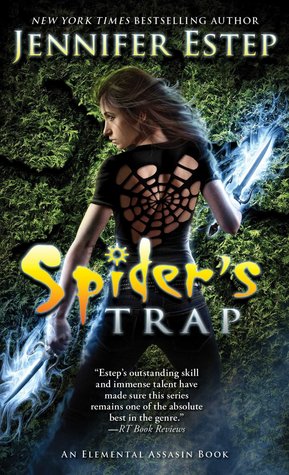 Summary:
The next thrilling book in Jennifer Estep's New York Times andUSA Today bestselling Elemental Assassin series—"an extraordinary series… One of the most intriguing heroines in the genre" (Romantic Times Book Reviews).
Keep your friends close but your enemies within stabbing distance.
One important lesson I've learned in the assassination business is that to be the best you have to roll with the punches. Now that I'm queen of Ashland's underworld—by default, not by choice—a lot more punches are being thrown my way. But I suppose that's the price of victory for taking down some of the underworld's top dogs. Good thing I have my Ice and Stone magic to help me survive my volatile new position. Just when I think things are finally settling down, someone tries to murder me during a hush-hush underworld meeting. But the real surprise is how strangely familiar my shadowy assailant seems to be.
My job is to maintain order among killers, crooks, and thieves, and soon I'm embroiled in a bloody game where the ability to keep secrets could be the greatest superpower of all. My enemies have all sharpened their knives and laid their traps, waiting for me to fall. But this Spider weaves her own webs of death…
Expected publication: July 28th 2015 by Pocket Books
The 13th book in the Elemental Assassin series starts pretty funny,with Gin at the helm of the Ashland underworld and having to mediate with the criminal bosses of the city but they are really testing her patience which was really funny to read.
But, as always, things go bad for Gin... and her friends. The villain in this book was particualarly nastly, he really creeped me out.
And there were some heartbreaking moments. I was a little afraid and it was a really emotional moment for Gin.
As the big boss now, Gin is having a lot on her plate but she is as kickass as ever, even more so. We also see some flashbacks from Gin with Fletcher and those are always really great. This series is getting better and better. Gin is evolving and so are her relationships and I am curios to see her now that she finally accepted that she rules the criminal world and how will it further affect her life.