Wicked (A Wicked Saga #1) by Jennifer L. Armentrout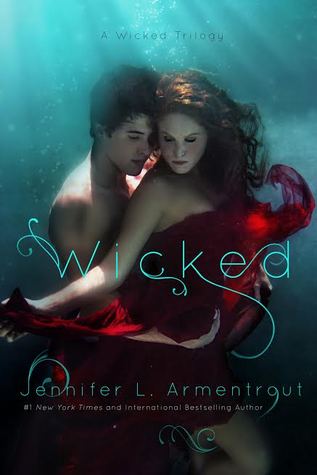 Summary:
Things are about to get
Wicked
in New Orleans.
Twenty-two year old Ivy Morgan isn't your average college student. She, and others like her, know humans aren't the only thing trolling the French Quarter for fun… and for food. Her duty to the Order is her life. After all, four years ago, she lost
everything
at the hands of the creatures she'd sworn to hunt, tearing her world and her heart apart.
Ren Owens is the last person Ivy expected to enter her rigidly controlled life. He's six feet and three inches of temptation and swoon-inducing charm. With forest-green eyes and a smile that's surely left a stream of broken hearts in its wake, he has an uncanny, almost unnatural ability to make her yearn for everything he has to offer. But letting him in is as dangerous as hunting the cold-blooded killers stalking the streets. Losing the boy she loved once before had nearly destroyed her, but the sparking tension that grows between them becomes impossible for Ivy to deny. Deep down, she wants… she needs more than what her duty demands of her, what her past has shaped for her.
But as Ivy grows closer to Ren, she realizes she's not the only one carrying secrets that could shatter the frail bond between them. There's something he's not telling her, and one thing is for certain. She's no longer sure what is more dangerous to her—the ancient beings threatening to take over the town or the man demanding to lay claim to her heart and her soul.
"Grabbing a scarf off the chair, I threw it at him.
He caught it, clutching it to his chest as he flew into the air. "You gave Tink a scarf. Tink is free!" He flew out into the hallway like a little cracked-out fairy, screeching, "Tink is freeeeee!"
Ren looked at me. "What the actual f**k?"
I sighed. "He's obsessed with Harry Potter. I'm sorry."
Tink darted back into the room, holding the scarf to his bare chest. "There is no reason to apologize when it comes to Harry Potter."
"You do remember what happened to Dobby, right?" I said.
"S**t." Tink's eyes widened and he dropped the scarf."
As always, JLA managed to light up my day while reading this. She always makes me laugh, her male characters are generally pretty swoony, there are plenty of action scenes with MC kicking ass and since this is a NA book, it gets pretty steamy.
The main character in Wicked is Ivy, a college girl who is a part of the Order, tasked to protect humans from fae, killing any they encounter to stop them from feeding on people. Ren, the love interest, is also a part of the Order, who is keeping some secrets and who helps Ivy with the fae. They are both attracted to each other, Ren is continously flirting with her while Ivy is trying to fight it. Also, it becomes apparent that there is a traitor in the Order and they are trying to find out who.
While I loved both Ivy and Ren, my favorite character is definitely Tink, a tiny brownie who Ivy found injured and just couldnt bear to kill so he lives with her and he is her friend. He is also hilarious, a big Harry Potter fan, who we see knows more than anyone else. He reminded me a bit of Jenks from my favorite series The Hollows, a tiny kick-ass dude with a potty mouth.
The premise with The Ancients was interesting, I hope we see more of the Prince in the sequel, he is intriguing. The betrayal that comes has been expected on my part and that is why this book gets 4 stars from me. I just wasnt surprised. And the cliffhanger threw me, it made me anxious and now Torn is on my list of most anticipated reads of 2015.
What I have to say is thank you to Jennifer L. Armentrout for writing because her book always made me smile no matter what.
"I'm a lot of things, but today I'm your fucking saving grace."