Addicted After All (Addicted #3) by Krista Ritchie and Becca Ritchie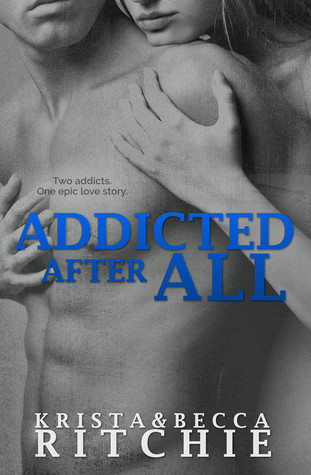 Summary:
Two addicts. One epic love story.






That's what Lily and Lo try to do when Jonathan Hale schedules an "important" meeting. The problem: after being swept into the public eye and battling their addictions, they're not sure what the worst is anymore.

In a sea of many changes—including Ryke & Daisy living with them—Lily realizes that the best part of her fluctuating hormones might just be the worst.




Her sex drive is out of control.




Loren knows that she's insatiable, but he's not giving up on her. She's too much a part of him. And as he carries more and more responsibility, some of the people that he loves doubt his resolve.

In the conclusion to their love story, Lily & Lo stand side-by-side to fight, one last time, for their happily ever after.


**AUTHORS' NOTE**
Due to the 2-year gap between Addicted for Now (Addicted #2) and Addicted After All (Addicted #3), you must read Thrive (Addicted #2.5) orthe Calloway Sisters spin-off series before reading Addicted After All.
My Review:
"The parts of me that I love the most are the parts that belong to her."

I devoured this series in four days, it is just so amazing and unputdownable, Lily and Loren s love story truly is epic.
These two have been through so much, so much pain and shame and hate yet they always stayed together and never lost sight of what is most important - overcoming their addictions so that they can lead semi normal lives together. After they finally have some semblance of control, in Hothouse flower and Thrive, we find out that there is a new challenge ahead of them, Lily is pregnant and it was nice to see Loren caring for her and striving for a better future for their child.
What most upsets me in this series is the media reaction and of other people towards Lily and her sex addiction and all the things they write and say about her. I know it is realistic, this world is nothing if not at times despicable, but I was so proud of Lily in this book when she decided to overlook bad and see the good, the fans that love and support them. As a couple, Lily and Loren are unstoppable and while their scenes get pretty hot, my favorite moments with them are the sweet ones, they can be so adorable.
"I speak for everyone here today," he tells us, "when I say that you two—Lily and Loren—are the strongest people we've all ever had the honor to meet."
While #TeamLiLo is my favorite couple, my favorite character is without a doubt Connor. He is a force to be reckoned with, an air of calmness and reassurance even in uber stressful situations like the one in the limo, which I dont want to spoil. He is a great husband and an incredible best friend. He always knows just what to say.
While LiLo are done with their story, there will be two more bookks in this world, one for Ryke and Daisy, and one for Connor and Rose. Everything has started to calm down around them so I am curios what the authors have in store for them next.
"Life doesn't stop when you take a new road. It always finds a way to go on."