Breathe, Annie, Breathe (Hundred Oaks #5) by Miranda Kenneally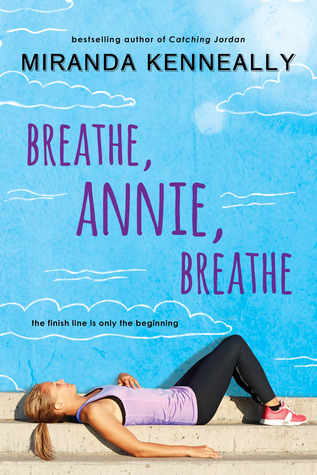 Summary:
Annie hates running. No matter how far she jogs, she can't escape the guilt that if she hadn't broken up with Kyle, he might still be alive. So to honor his memory, she starts preparing for the marathon he intended to race.
But the training is even more grueling than Annie could have imagined. Despite her coaching, she's at war with her body, her mind—and her heart. With every mile that athletic Jeremiah cheers her on, she grows more conflicted. She wants to run into his arms…and sprint in the opposite direction. For Annie, opening up to love again may be even more of a challenge than crossing the finish line.
"Breathe, Annie, Breathe is an emotional, heartfelt, and beautiful story about finding yourself after loss and learning to love. It gave me so many feels. Her best book yet." — Jennifer Armentrout, New York Times bestselling author of Wait for You
My review:
Here is my review of the 2nd book in this series
Stealing Parker
I was in a little bit of behind on this series since the last book I read was Things I cant forget back when it came out in March 2013. So, first I read Racing Savannah a day before I read this book to catch up and I remembered why I love this series so much.
Breathe, Annie, breathe is a story of a young girl, Annie, who lost her boyfriend of a few years in an accident and is now training to run a marathon he trained for before he died, to run it in his honor. She is struggling with everything that happened before his death, that they broke up a few days before because she wanted to go to college before they got married and the night they reconciled, he died. Her trainer is Matt who is the love interest from Things I cant forget who is now a few years older, and his brother Jeremiah likes Annie from the first moment they meet. From there on, the story is one of overcoming grief, finding strength to move on, giving your trust to someone and new friendships. We also see a few characters from the last books, of course Matt and Kate, Jordan and Henry, Jack and Savannah, Vannessa, Rory, Colton and Kelsey. I loved how she formed these friendships and how her and Kelsey finally forgave each other. This book was full of tough moments, sweet and hot scenes and at the end of the book, that final chapter, really warmed my heart.
I am excited to see who will the characters in the next book be and am eagerly anticipating it. Miranda Kenneally is one of the best writers of YA contemporary and her characters always seem so real, and the point is, they could be. That is how real and genuine Kenneally s writing is.