Blood Games (Chicagoland Vampires #10) by Chloe Neill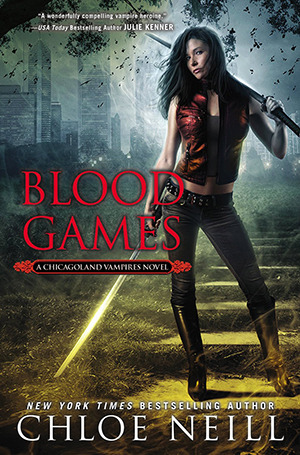 Summary:
While Merit didn't choose to become a vampire or Sentinel of Cadogan House, she vowed to fight for her House and its Master, and she's managed to forge strong alliances with powerful supernaturals across Chicago. But even though Merit has had wild adventures, this may be her deadliest yet...
A killer is stalking Chicago, preying on humans and leaving his victims with magical souvenirs. The CPD hasn't been able to track the assailant, and as the body count rises, the city is running out of options. Vampires and humans aren't on great terms, but murder makes for strange bedfellows. Can Merit find the killer before she becomes a target?
My review:
Check out my post with my favorite quotes from the series and an international giveaway that last will run through the entire August
Favorite quotes and giveaway
"You're my world," he said, putting down the glass. "You're mine to protect."
It is no secret I adore this series, ever since I first read Some girls bite in 2011. I was hooked from the first page and I am eagerly anticipating each sequel. Blood games is one of my favorites of the series, along with Twice bitten and House rules. Merit and Ethan have a strong and sizzling relationship, they protect each other but they wouldnt be who they are without some drama. Ethan s past is slowly becoming visible and he is afraid of what will it do to his relationship with Merit, afraid that she wouldnt be able to take it and will see him as a monster. Also, the battle for the GP leadership has begun and it is full of tension. There is another storyline here and it is a new case, a serial killer is loose in Chicago and is killing based on tarot cards.
I loved this book so much, Mallory and Merit are on the right path again, it seems that their friendship is strong again, Catcher and his T-shirts are always entertaining as are Luc and Lindsey, Jeff is adorable as always, we see more of Jonah and I loved how his partnership with Merit is still developing and is stronger. I loved the action and the tender scenes, I loved how the tension was resolved and I loved the steamy scenes.
Chicagoland vampires is one of the best series out there in Paranormal romance and Urban Fantasy and I am excited to see how the story will evolve after that dramatic ending.
"Because I love you. Because love, to some, is a weakness. A pressure point. Because I would give up anything for you, including the GP. And because I don't mean to give up either."