City of Heavenly Fire (The Mortal Instruments #6) by Cassandra Clare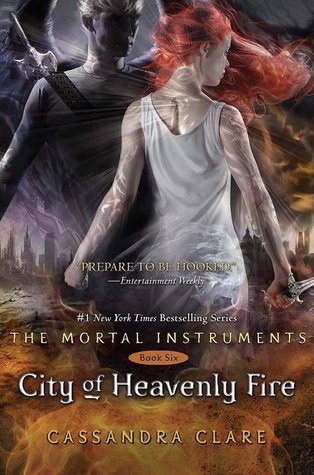 Summary:
In this dazzling and long-awaited conclusion to the acclaimed Mortal Instruments series, Clary and her friends fight the greatest evil they have ever faced: Clary's own brother.
Sebastian Morgenstern is on the move, systematically turning Shadowhunter against Shadowhunter. Bearing the Infernal Cup, he transforms Shadowhunters into creatures out of nightmare, tearing apart families and lovers as the ranks of his Endarkened army swell.
The embattled Shadowhunters withdraw to Idris - but not even the famed demon towers of Alicante can keep Sebastian at bay. And with the Nephilim trapped in Idris, who will guard the world against demons?
When one of the greatest betrayals the Nephilim have ever known is revealed, Clary, Jace, Isabelle, Simon, and Alec must flee - even if their journey takes them deep into the demon realms, where no Shadowhunter has set foot before, and from which no human being has ever returned...
Love will be sacrificed and lives lost in the terrible battle for the fate of the word in the thrilling final installment of the classic urban fantasy series The Mortal Instruments!
My review:
"Temper us in fire, and we grow stronger. When we suffer, we survive."
It is very hard to say goodbye to yet another Cassandra Clare series and the last book in The Mortal Instruments series was so amazing, I just want more. More of my favorite characters, more of the Shadowhunter world, more of that humor and that flkawless writing. I first read City of bones in 2011, 3 years ago and I fell in love, I read the next 3 in just a few days and then came the waiting for City of lost souls. From the begginning my favorite characters were Jace and Magnus. Both tortured souls who have an amazing sense of humor, they could always bring a smile to my face or make me cry.
In City of heavenly fire we meet Emma Carstairs and Julian Blacthorn in the prologue, the main characters of Cassandra Clare next series The Dark Artifices. I liked Emma from the start and I can see how she will be an amazing heroine. Many things happen in this last book. So much death, yet love, forgivness and friendship are what is most important in this book. We have a few steamy scenes between Jace and Clary, a few heartbreaking and heartwarming moments with Alec and Magnus, agonizing minutes between Jordan and Maia. There is also plenty of humor, mostly sarcasm, my favorite kind. And a betrayal for the Shadowhunters that almost destroyed them. I was crushed over a few deaths, it was truly wrecking to see so much pain in the aftermath. Sebastian is the biggest and most evil villain the Shadowhunter world has ever seen, he had a really sick mind, his obssesion with Clary in this book reached new heights. The one who really surpised me was Simon, he was really amazing in this book, he grows so much stronger and he is a true hero. His relationship with Isabelle is also so sweet and sometimes hilarious, she is an amazing girl and they are perfect for each other.
Even though this book was really long, it felt like I read it in one sitting, something was always going on, the writing was amazing as always and I really look forward to seeing Emma and Julian grown up, and little Tiberius, he was so charming to me, and to see how my favorite characters are doing in their twenties.
"Freely we serve
Because we freely love, as in our will
To love or not; in this we stand or fall."