Blog tour; The Monster Within by Kelly Hashway (ARC review, teasers and giveaway)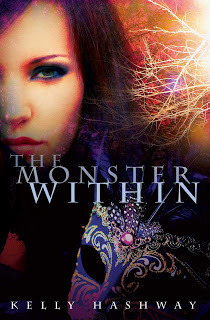 Welcome all to my stop of the blog tour for The Monster Within by Kelly Hashway hosted by Spencer Hill Press. I am a fan of Kelly s Touch of death series so when I heard about The Monster Within, I was excited and happy to be a part of the blog tour. I have some picture teasers to share with you, my review and at the end, an awesome giveaway. Enjoy :)
Summary:
"The moment seventeen-year-old Samantha Thompson crawls out of her grave, her second chance at life begins. She died of cancer with her long-time boyfriend, Ethan, by her side--a completely unfair shot at life.
But Ethan found a way to bring her back, like he promised he would. Only Sam came back wrong.
She's now a monster that drains others' lives to survive. And after she kills, she's tortured by visions—glimpses into her victims would-have-been futures had she not killed them. Barely able to live with herself and trying to make things right, Sam ends up a pawn in a vicious game of payback within the local coven of witches.
But when the game reveals what Ethan had to do to save Sam, she must make a choice that will change all their lives forever."
As I already said in the begginning of the post, I am a fan of Kelly s books and her writing and after reading The Monster Within, that is even more true now. The story flows so easily, from the very first sentence something is happening, Sam rising from the grave, and it doesnt stop through the entire book. It didnt matter if you figured out the truth somewhere in the middle, it was still interesting to see the characters reactions. My favorite characters in this book are Ethan and Dylan. Ethan who loves Sam so much he found a way for her to live again and for them to be together, he thought of almost anything and he always tries to protect her. Dylan has such a good heart and so much forgiveness in him, he was simply amazing. The one who annoyed me was Sam. She could have stopped so many bad things from happening if she just listened to Dylan or seen Nora for who she really was. A great read..
Giveaway
a Rafflecopter giveaway
Author bio:
"I write for children of all ages from picture books up to young adult. My debut YA, TOUCH OF DEATH, released January 15, 2013 through Spencer Hill Press. Also look for my other YA novels: STALKED BY DEATH (Spencer Hill Press, August 23, 2013), THE MONSTER WITHIN (Spencer Hill Press, June 2014), THE DARKNESS WITHIN (Spencer Hill Press, June 2015), and INTO THE FIRE (Month9Books, spring 2014). My debut MG series CURSE OF THE GRANVILLE FORTUNE releases fall 2014 through Month9Books. I am represented by Sarah Negovetich of Corvisiero Literary Agency.
or check out my Facebook fan page at
http://www.facebook.com/pages/Kelly-H
...."