Seventh Grave and No Body (Charley Davidson #7) by Darynda Jones (Review in GIFs)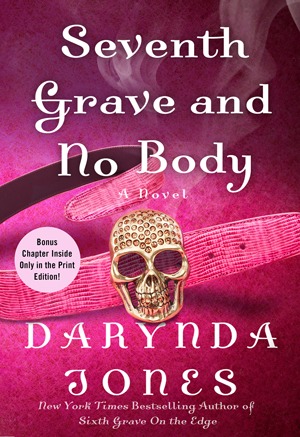 Twelve. Twelve of the deadliest beasts ever forged in the fires of hell have escaped onto our plane, and they want nothing more than to rip out the jugular of Charley Davidson and serve her lifeless, mangled body to Satan for dinner. So there's that. But Charley has more on her plate than a mob of testy hellhounds. For one thing, her father has disappeared, and the more she retraces his last steps, the more she learns he was conducting an investigation of his own, one that has Charley questioning everything she's ever known about him. Add to that an ex-BFF who is haunting her night and day, a rash of suicides that has authorities baffled, and a drop-dead sexy fiancé who has attracted the attentions of a local celebrity, and Charley is not having the best week of her life.

A tad north of hell, a hop, skip, and a jump past the realm of eternity, is a little place called Earth, and Charley Davidson, grim reaper extraordinaire, is determined to do everything in her power to protect it.

We're doomed.
My review:
"One thing I'd learned growing up: People were never, ever, ever 100 percent honest about their feelings.
Never."

I decided on doing a GIF only review for this book because I have no words. I adore Darynda and the world and characters she created and this is the best book yet, and that is saying something since they are all exceptional...



"I'm like crack. People don't want to like me, but once they get a taste, they always come back for more."