Blog tour: Siren's Song by Heather McCollum
SIREN'S SONG
By: Heather McCollum
Release Date: March 25, 2014
Published By: Spencer Hill Press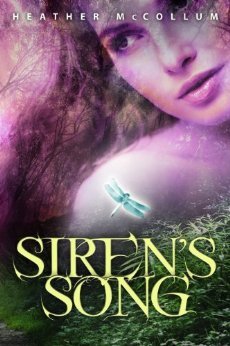 Summary:
Jule Welsh can sing. She enthralls people with her bel canto voice. But it takes more than practice to reach her level of exquisite song; it takes siren's blood running through her veins. Jule is starting her senior year at Cougar Creek High when her relatively normal world begins to resemble a roller coaster flying through a carnival scare house. Her mother is diagnosed as insane and committed, a psycho-stalker is snapping pictures of her to put into his homemade Jule-shrine, her voice is suddenly putting people into comatose trances, oh and the gorgeous new guy in town, Luke Whitmore, is interested in her . . . but also wants to kill her.


EXCERPT:
The silence and darkness pack in around us until it feels like I'm floating in emptiness. The thought tightens my stomach. I shift until I feel the firm side of Luke's arm pressing back. A flash of lightning splinters the clouds overhead, momentarily lighting up the gray, morphing bodies from the inside. Thunder follows a second later, loud and stark. I jerk, my hand grasping Luke's forearm.
"Isn't it supposed to be dangerous to be on a golf course in a lightning storm?" I ask, but stay rooted to the soft grass.
"That's when you're standing up holding a nine-iron." Another bolt of lightning flicks in the clouds, followed by thunder. "Although we may get a little wet. You don't melt, do you?"
I should sit up, ask him to lead me to shelter or run for the clubhouse. But Luke's hand captures mine. He trails lazy circles with his thumb over the back, up and over my knuckles.
"No, I don't melt, but Carly might send the flying monkeys if you allow my hair to get ruined." At the mention of Carly, my stomach tightens.
"Is she going to be okay?" I whisper as if the words themselves show my disloyalty. If I really was questioning her safety, would I have let her go? What kind of friend am I?
"She'll be fine. Perhaps a little hazy about the events of tonight, but that's it."
I stare at him. Even with my eyes wide, Luke's features are still in complete shadow.
"He's drugging her?"
I make out the sharp edge of Luke's profile just before it disappears. He turns toward me.
"There are no drugs involved. It's more of a…memory spell. To help her forget all of Taylin's mumblings."
"A spell? How…?"
"It's sort of like hypnosis."
"But why shouldn't she remember what Taylin said?"
"It will just confuse Carly to know all that."
"But I'll just tell her." Stop talking, Jule! But my lips don't listen. "Unless…" I swallow hard, my throat constricting; I fight to get the rest out, "…you plan to do the same to me."
Luke's face is close, our shoulders now touching, arms overlapping. When did he move closer? He warms the left side of my body. "I haven't decided yet," he says, as if he's contemplating which movie to see.
A sudden thought squeezes my stomach. "Have you…have you done that before? The forgetting thing? To me?" Did we do more than kiss the other night? I am still a virgin, despite the close calls with Derek. I think I would know if we'd…I mean, wouldn't I know if–
"No, I haven't."
I'm able to breathe again. I stare back at his dark features. Lightning splashes white light over them. It is surreal lying here under the oncoming storm, staring into the dark, sad eyes of someone…something sleekly dangerous, lethally beautiful, totally captivating.
I reach slowly for his face and run one finger along his rough jaw. "What are you?
About the author
Heather McCollum is an award winning, historical paranormal romance writer. She earned her B.A. in Biology from the University of Maine, much to her English professor's dismay. She is a member of Romance Writers of America, Heart of Carolina Romance Writers and the Ruby Slipper Sisterhood of 2009 Golden Heart Finalists.
The ancient magic and lush beauty of Great Britain entranced Ms. McCollum's heart and imagination when she visited there years ago. The country's history and landscape have been a backdrop for her writing ever since. She currently resides with her very own Highland hero and three spirited children in the wilds of suburbia on the mid-Atlantic coast.
Find Heather McCollum Online: